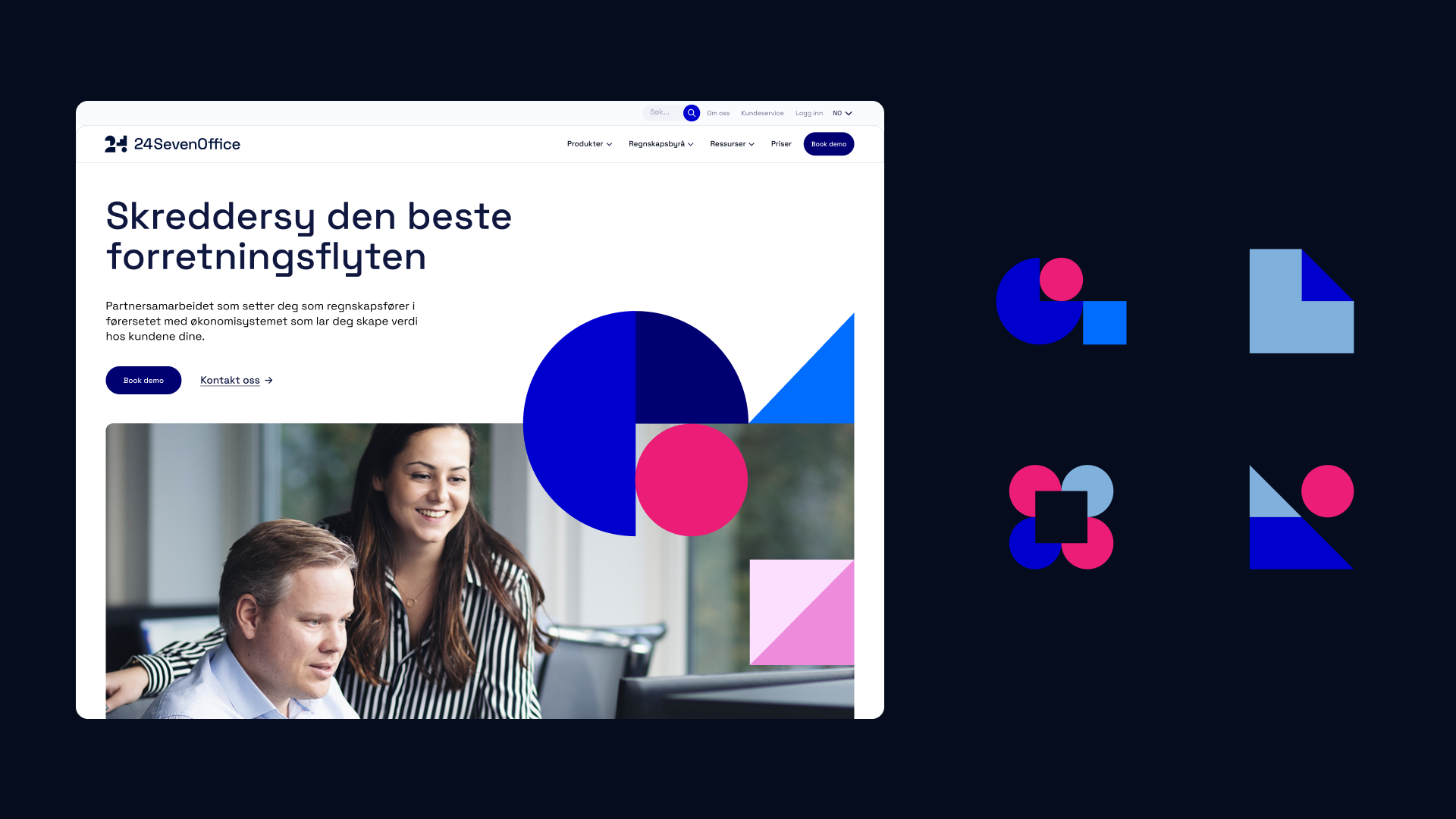 Tailored and conversion-optimized template framework on HubSpot CMS
Client

24SevenOffice

Project

Website, HubSpot

Year

2023

Time perspective

November - April

Industry

Software development
24SevenOffice wanted to renew its position and brand as a challenger among cloud-based business systems. This led to an investment in a new CRM, identity, website, and digital customer center.
Superblaise has designed the visual identity, while TRY Dig has brought it to life with animations, conversion paths, and a new website on HubSpot CMS.
The website is an important sales channel, and the ambition is for it to be significantly more converting moving forward.
The client
24SevenOffice is an innovative company operating within software development of cloud-based business solutions. With headquarters in Oslo, the company has established itself as a technologically leading provider of comprehensive and integrated software solutions for customers worldwide. Their platform contains a range of key tools, including finance and accounting functions, CRM, project management, time tracking, invoicing, HR administration, and more, allowing their customers to have a tailored solution that optimizes workflow and business operations.
The challenge
With an outdated profile and digital presence in a competitive market for business systems, 24SevenOffice needed an overall upgrade to ensure a strong future brand. A new website emphasizing the customer journey and digital presence based on the new identity was desired.

A central goal was to develop a website template that was so flexible that it could easily scale as 24SevenOffice's needs increased. The old website needed a better structure and clear conversion points, which customers expect from a website in 2023. The old website also did not communicate well with 24SevenOffice's existing marketing, sales, or customer service tools.
The solution
24SevenOffice has used HubSpot as a CRM, sales, and marketing automation tool but had its website outside of HubSpot. In this project, we agreed to gather everything in their HubSpot portal and build the website in HubSpot CMS to ensure a smoother flow between the website and the remaining business systems. The advantage of such a solution is that data from the website is available directly in CRM, making it accessible to all parts of 24SevenOffice - whether you work with sales, product, marketing, or customer service.

In consultation with the client, we conducted a thorough preliminary project to become familiar with the needs, outline the optimal user journey, and map the requirements for new templates and modules. Wireframes were then turned into sketches, which our certified HubSpot developers eventually developed.
Price calculator
To ensure a more conversion-effective website, there was a desire for a price calculator and the ability to "match" with an approved accountant, allowing users to independently register as interested parties in 24SevenOffice's products and services.

The price calculator uses APIs against the norwegian "Brønnøysund registers" to retrieve information about the user's company, including company name, organization number, and information about the company's accountant. Once the number of users is entered, the calculator performs an automatic lookup to determine the most appropriate product size.

Users can then choose from 24SevenOffice's products and enter the number of employees if they wish to use payroll or timekeeping functions. This simplifies the process for users when it comes to finding the most suitable solution for their business and provides a clear overview of potential costs.

"Back-end," several automated processes have been built through HubSpot's tool "Workflows", which ensures that inquiries through the website are logged correctly in CRM so that the data can be reused in the customer relationship, and for sales and marketing purposes. In addition, the automated processes ensure that inquiries from the website are incorporated into the sales processes seamlessly and user-friendly. It ensures that the contact persons internally follow up on various tasks in a sales process.
Through the collaboration, TRY has, among other things, helped 24SevenOffice with the following:
Implementation of HubSpot CRM
Guidance on data modeling and migration in HubSpot
Migration from WebCRM to HubSpot
Strategic consulting and ongoing HubSpot assistance
Icon bank animation (designed by Superblaise)
Integrations against third-party systems
Consulting, design, and development of new websites on HubSpot CMS
Design and development of price calculator and accounting match
SEO
Selina Grythe

TRY Dig

HubSpot Specialist

selina.grythe@try.no

+47 986 81 949

Camilla Gundersen

TRY Dig

Team Lead and HubSpot Specialist

Fredrikke Eriksson

TRY Dig

HubSpot Specialist

fredrikke.eriksson@try.no